Radiated Tortoise - Astrochelys radiata
These tiny tortoises are the very special offspring of the adults living out the back of this building.

They are part of an important captive breeding program for this critically endangered species, and are the first ever Radiated Tortoises to be captive bred in Queensland.
It is estimated that in the past 12 years the Radiated Tortoise population in Madagascar has dropped by more than half due to animal trafficking, habitat loss and bush meat harvesting.
There is a very strong fear that these tortoises will go extinct in the wild in the near future, so it is important that insurance populations are held in the capable hands of private institutions, and babies like these represent hope for the future of this species.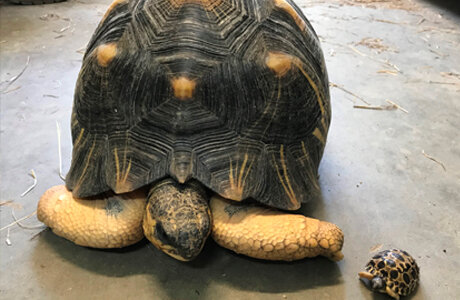 Hatchling 1 - Hatched 21 Oct 2020
For your chance to win a copy of A Complete Guide to Reptiles of Australia - Sixth Edition, or a mystery pack from the souvenir shop valued at $50, please enter your details and your favourite hatchling names below. Good luck!