The North Queensland Wildlife Trust (NQWT)
Was established in 2004 by the Freeman family who owns and operates Hartley's Crocodile Adventures, Kuranda Koala Gardens and Birdworld Kuranda. The Trust provides an easy mechanism for visitors to make an active contribution to the conservation of native species and local habitats.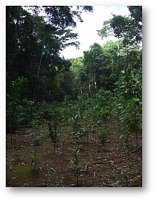 Visitors are encouraged to donate their spare change at the various collection boxes located in each wildlife park. For each dollar collected, the business holding the donation box matches the cash collected, dollar for dollar. Conditions apply; individual contributions are matched up to the value of $100.
Since inception, the North Queensland Wildlife Trust has distributed in excess of $200,000 to local conservation groups with Deductible Gift Recipient (DGR Status.
One of the many projects that North Queensland Wildlife Trust has contributed to is with Rainforest Rescue who protects Rainforests forever the regeneration of Lot 83 Rosewood Road Daintree.
North Queensland Wildlife Trust funded the planting of 1,000 trees here and thousands more on other properties- to regenerate damaged rainforest!
These photos below are the before and after shots of the property, which was damaged rainforest with loads of rubbish!
Then after a couple of years, after seedlings grew!
Over time, the Trust has supported the:
Rehabilitation of Cassowary habitat in Daintree and Mission Beach;
Restoration of Tree Kangaroo habitat on Petersen's Creek, Yungaburra;
Breeding for release of endangered Gouldian Finches;
Construction of facilities and funded specialist training for wildlife carers;
Expansion of the Turtle Hospital on Fitzroy Island;
Restoration of a wildlife corridor for Spotted Tailed Quolls.