YES! WE ARE OPEN 7 DAYS A WEEK FROM 8.30 AM TO 5.00 PM DAILY


BOOK ONLINE TO SATISFY COVID 19 CONTACT TRACING REQUIREMENTS
OR SCAN THE QR CODE AT ADMISSIONS
COVID SAFE PLAN

As a condition of entry, you must comply with our COVID Safe Plan. See conditions below.
There are limitations on visitor capacity at wildlife presentations, reduced passenger numbers on boat cruises and limited seating at Lilies Restaurant.
During school holiday periods we recommend you book online to secure entry on your preferred day of travel.
Interactive animal encounters like Big Croc Feed, Zootastic 5 and Reptastic 5 are available but numbers are limited.
Lilies Restaurant is operating on a limited menu during the COVID recovery period. Visitors are welcome to bring a picnic lunch and can dine in the park. No BYO alcohol please. Take away food is obtainable.
Souvenir wildlife photos including Koala Holding Photos are available (subject to conditions) at set times.
COVID SAFE PLAN
Children must be accompanied and actively supervised by a responsible adult
As a condition of entry, you must comply with our COVID Safe Plan. You must provide your correct contact details when booking online or using the contact tracing App on entry.
Exercise social distancing and frequently wash/sanitise your hands.
If you display any signs of illness symptomatic to COVID-19, you will be denied entry.
Failure to comply with any instructions from our staff may result in your expulsion from the property.
We accept most major credit cards (Visa, Mastercard and Amex). Payment by credit/debit card is preferred and appreciated.
Other entry conditions stated at Reception and on our web page.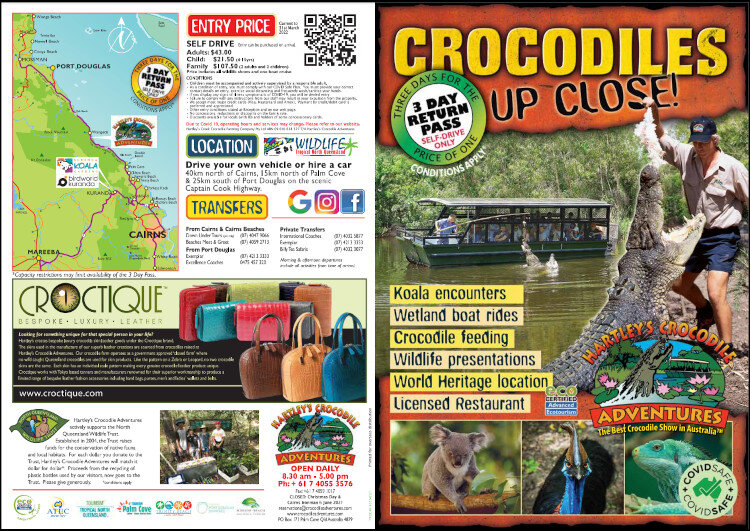 Download Brochure
Limited Coach transfers from Cairns City, Northern Beaches and Port Douglas to Hartley's Crocodile Adventures are available. Please give our reservations team a call on 4055 3576 or book online.
DAILY ACTIVITIES — During COVID Recovery Period

9.00 am Crocodile Farm Tour
10.00 am Snake Show
11.00 am Crocodile Show
**********
1.00 pm Crocodile Farm Tour
2.00 pm Snake Show
3.00 pm Crocodile Attack Show
During busy periods, additional wildlife presentations will be scheduled in. Check blackboard at Admissions on arrival.
In between shows or instead of a show, you are welcome to explore the 2500 metres of boardwalks and pathways winding through Melaleuca Wetlands, Eucalypt Woodland and Riverine rainforest, enjoying a wide variety of native and exotic animals.
All wildlife exhibits open to public viewing including the Komodo Dragon, Alligators, Cassowaries, Wombats, Koalas, Emus, Lizards, Kangaroos and Wallabies. Capacity limits apply to the Gallery of Living Art – Reptile Display, Tropical Bird Aviary and Predatory Bird Aviary to ensure social distancing.
CAPACITY RESTRICTIONS ON WILDLIFE SHOWS
To satisfy social distancing requirements, the seating capacity of each wildlife amphitheatre has been redefined to meet the conditions of our COVD Safe Plan. We appreciate your understanding, once an amphitheatre has reached capacity, we simply may not be able to accommodate everyone.
CAPACITY RESTRICTIONS ON BOAT CRUISES. WE DO NOT TAKE BOOKINGS FOR BOAT CRUISES. YOUR BOAT TIME WILL BE ALLOCATED UPON YOUR ARRIVAL.
Subject to the mix of singles, couples and families, the operational capacity of our boats are limited. We cannot guarantee that every visitor will receive a boat ride.
The duration of the boat cruise has been shortened to 20 minutes to allow cleaning before the next cruise.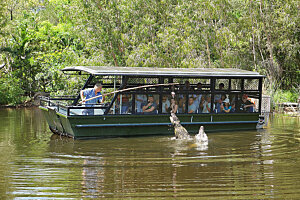 PREMIUM WILDLIFE ENCOUNTERS: BIG CROC FEED AND ZOOTASTIC 5, REPTASTIC 5, ARE NOW AVAILABLE, MUST BE PRE-BOOKED.
FRESHIE FEEDS & BREAKFAST WITH KOALAS ARE NOW AVAILABLE.
The following activities are not possible due to social distancing requirements:
Feathertastic
Mammal Magic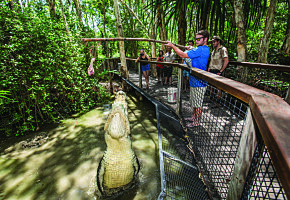 GIFT VOUCHERS, COMBOS, WILDCARDS AND THREE-DAY PASSES
Great Australian Wildlife Experience is open to purchase. Please note Kuranda Koala Gardens and Birdworld Kuranda are operating every day but from 10.00 am to 3.00 pm daily. Check when purchasing.
The complimentary three-day pass for self-drive visitors will not be available until April 2021 and could be restricted during busy periods.

The owners reserve the right to vary the opening hours, amend or cancel wildlife presentations, animal encounters and boat cruises, alter visitor capacity and restrict the availability of retail products, including food and beverage without prior notice in response to government directives in relation to COVID-19, severe water conditions, safety reasons or other operational issues.
The owners and our Hartley's team sincerely appreciate your support and patronage during these challenging times. The rules and restrictions are beyond our control and we are doing our very utmost to provide you with an enjoyable wildlife experience.